Daily Thanthi is a prominent English newspaper in South India that has a Tamil counterpart called Dina Thanthi. It is the ninth largest selling daily that is circulated in India. The daily has a circulation figure of approximately 1,679,837 copies in 16 cities namely: Bangalore, Chennai, Mumbai, Pondicherry, Coimbatore, Cuddalore, Dindigul, Erode, Madurai, Nagercoil, Salem, Thanjavur, Tiruchirappalli, Tirunelveli, Tirupur, and Vellore. The daily is based out of Madurai and it has been prevailing in the media industry since 1972. The reach of the English daily has expanded beyond borders. Today, there exists an international edition of Daily Thanthi that especially caters to the Tamilian audiences based in Dubai. Given its widespread popularity, this newspaper is often opted by commercial brands to advertise their products in.
The Benefits of Publishing Daily Thanthi Advertisement
Daily Thanthi is the most popular Tamil newspaper with an unparalleled circulating network. This daily is an advisable option for local, national and international brands looking that are trying to reach out to consumers residing in South India (Tamilians in specificity).
Daily Thanthi advertisement goes beyond Southern India. It has an international edition that is released in Dubai which is rarely applicable to other newspapers.  Publishing advertisements in the Dubai edition of Daily Thanthi have the potential to connect with international audiences sharing the same ethnicity. Releasing advertisements in the international edition of Daily Thanthi can thus assist with the expansion of the brands' consumer base.
Daily Thanthi has been thriving in the media industry for the past 46 years. Its continued operation makes it a reliable publication to release advertisements in.
Daily Thanthi provides numerous categories to brands and individuals to release advertisements in. They are as follows: Obituary Ads, Matrimonial Ads, Display Ads, Property Ads, Tender Ads, and so on.
Thus, the above facts outline the benefits of book newspaper advertisement. However, the effectiveness of a newspaper advertisement is increased by choosing an appropriate newspaper advertising agency that works in compliance with the budget requirements of the client to achieve the desired outcome from the Ad input.
Bookadsnow is an online media portal launched by Lookad. Lookad has more than 30 years of experience in the field of newspaper advertising since then they have established relations with most newspapers in India. Given their experience in this field, we advise brands and individuals to consider booking Ads in Daily Thanthi through Bookadsnow.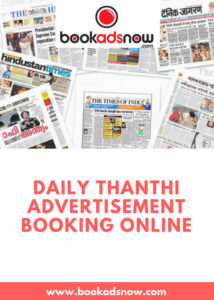 Why Bookadsnow for publishing Daily Thanthi Advertisement?
Bookadsnow an online media planning portal simplifies the process of releasing newspaper Ads in publications that operate in India. Our experience in the media industry over the past 3 decades has helped us earn an accreditation from the Indian Newspaper Society. Since then we have been maintaining long-standing relationships with most publications in the nation. Additionally, our trained media experts are well equipped to answer all the queries of the client. Our experts personally negotiate lower ad rates for the clients keeping in mind their budget. We also have readymade templates that allow us to cater to the need of the clients, even at the eleventh hour. Furthermore, after the advertisement is released, we continue to maintain ties with our clients; we provide them with a hard copy of the newspaper and link to the e-paper.