Sometimes it's not about the content of the advertisement. Sometimes it's not about the catchy pictures or colors. It's about the vehicle through which you publish your ad that makes the difference. The Hindu advertisements are only as good as the medium through which you display it. In this context, The Hindu advertisement will work wonders for the ad, providing you with better exposure and results than you would have perceived.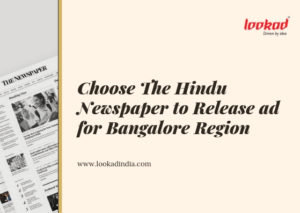 The Hindu; Founded in 1878, this paper is the topmost English daily from South India. According to Audit Bureau of Circulation figures, The Hindu ranks second as most widely sold English broadsheet dailies of India, with a reported sale of over 1.2 million copies per day. Due to its high quality of journalism, there is a strong base of readers for this publication.
The Hindu has branched out and created other supplements in order to cater to some diversity with their approach. As a renowned and credible publication, it covers a wide variety of genres such as business, politics, entertainment, sports and global news by the use of its supplements such as:
Metro Plus
Young World
Book Review
Empower
Friday Review
Education Plus
Metro Plus Weekend, and so on.
Its divisions ensure that news does not just limit itself to journalistic endeavors, and strives to educate and inform its readers on all fronts. From all this, it becomes clear that The Hindu advertisement would fetch more viewership as well as more ROI than other publications. But if you're asking yourself – "How do I book my ad?", there is a suitable solution to your problems.
You cannot just select any random newspaper advertising agency in Bangalore without a proper estimation of their abilities and reputation. You would want to choose a reputed agency with an efficient management team and experts that are able to do your ad justice and give it the best promotion and publicity.
That's the cue for one of the most highly esteemed ad agencies – Bookadsnow. With over three decades of presence in the media industry, it goes all the way to ensure you gain maximum ROI and exposure for your advertisement. Furthermore, it is an INS accredited organization which adds to its credibility. More importantly, Bookadsnow also strives to maintain sincere transparency with their clients so that there is no miscommunication or misunderstandings. Furthermore, newspaper advertising rates tend to be negotiable in nature, along with easy and secure payment options.
The answer to – "How do I book my ad?" – is  Bookadsnow. Through this medium, it becomes really simple and convenient to book your newspaper ads in the region of Bangalore.