Obituary Ads are usually one-time advertisement that is released at the eleventh hour. Therefore, they tend to be more expensive than the commercial ones.
Newspaper Obituary Advertisements are of three different types:
Death Announcement Ad- Inform acquaintances about the upsetting death of a beloved and provide them with details of their upcoming funeral
Remembrance or Death Anniversary Ads- Released to commemorate the death of a deceased
Tribune or Condolence Ad- Booked to portray the essence of sympathy for a beloved deceased one.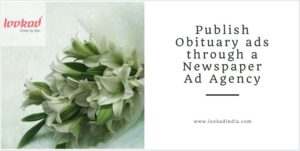 Obituary Advertisements in newspapers could have either of the three formats. They are as follows:
Classified Ad- This is the simplest format. It has no room for images, only running text.
Classified Display Ad- This is an intermediary format; it has provisions for both text and image. However, there exist specifications for its dimensions. These ads appear on the classified section of the newspaper.
Display Ad- Although expensive, this is the most effective format that increases the visibility of the Ad. These ads are published on either a full page or a portion of it. It has no size or page limitations.
However, deciding the type of advertisement is the preliminary step for releasing a newspaper advertisement. To navigate other technicalities and negotiate the lowest rate for their Ad input, the client needs an advertising agency like Lookad. Lookad acts as an intermediary on behalf of the client and assists them throughout the process.
Why release Obituary ads through Lookad India Pvt. Ltd?
Lookad India Pvt. Ltd is a leading Newspaper advertising agency in Eastern India that buys media and releases advertisements. This company has more than three decades of experience in providing effective brand solutions and creating lasting relationships with the clients. The agency continues to work with some of the biggest commercial brands in the nation; this, in turn, adds to their credibility. Their tagline 'Driven by an idea' sheds light on how they successfully operate in this competitive industry and simultaneously maintain the quality of the advertisements, all within tight deadlines. Although they are based in Kolkata, their online media planning portal (Bookadsnow) allows them to serve clients throughout the nation.
Perks of Releasing Obituary Ads with Lookad India:
Lookad India makes attempts to get the clients the best rates for booking all types of the obituary.
We commiserate with you and understand your need of the hour and thus depending on that we provide you with the readymade Obituary ads
Our expert media professionals will guide you step by step throughout the process of booking Obituary ads in newspaper or any ads through Lookad India.
After the advertisements are released, they provide the client with a hard copy of the newspaper and link to the e-paper.
To proceed with Obituary Ads through Lookad India, one will have to provide us with the following:
Death Certificate
Details of the deceased along with a photo
Size of the advert.
Date of release
To book Obituary Advertisement with Lookad India, one must follow the following steps:
Visit Lookad
On the homepage, scroll down and from the selection "Book Advertisements Online Now" select "Book Obituary Ads"
On reaching the page of Book Obituary Ads, send your queries to us for the Obituary Ad and our media experts will get in touch with you instantly.
You can also email us your Obituary Ads related queries at info@lookadindia.com. For more information call us at +9198300-30877 / +9198304-00021 or drop a message and our media professionals will get in touch with you.