In today's fast-paced world, advertisers are constantly facing the challenge of reaching the potential customers and engaging them with their products or services through their advertising strategy. Moreover, the cut-throat competition in the market is a clear indication that advertisers need to upgrade their advertising game. While the various social media platforms are working hard to garner the attention of targeted customers, there is something nostalgic yet elegant about newspaper advertisements. They are still top contenders in the world of advertisement, especially in a country like India where there are numerous newspapers in different languages. In other words, as long as newspapers are alive in the market, newspaper ads will keep playing the vital role of promoting a brand's product and services or serve some purpose for an individual advertiser.
With that being said, a company or an individual can release different types of Notice advertisement that will align best with their requirement. Out of all these ads, releasing a tender ads holds a different significance in the advertisement sphere. Hence, in this write-up, we will speak of the tender notice ads and also provide you with a solution to publish the same in a few simple steps.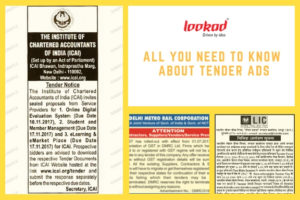 But First…
What are Tender Notice Ads?
When we speak of a tender advertisement in newspaper, we know that they are unlike other types of newspaper Ads which most individuals can understand. Tender notice Ads are released to invite business prospects from the public and private sector regarding government operations. Such Ads can also be taken out by the commercial sector for the other service-oriented commercial sector. Such Ads essentially consists of content catering to business proposals, bids and even company takeovers by government bodies. While the notice is a form of public invitation, choosing a newspaper is the best channel to reach out to targeted audiences.
Different Types of Tender Notice Ad
Tender advertisement in a newspaper is generally of two types- Legal Tenders and Tender offers.
Legal Tenders: Legal Tenders are notices that mention a certain medium of payment which is acknowledged by a notable legal organization or a government body to dissolve a public or private debt.
Tender Offers: Tender offers are published to declare a public takeover, bid invitations or to address the stockholders of a specific trade organization to present their stock during an assigned time period at a specified price.
How are the Tender Notice Ads Different from Public Notice Ads?
| | |
| --- | --- |
|                    Tender Notice Ad |                  Public Notice Ad |
| Tender notice ads in newspapers are released by businesses or private companies for the purpose of promotion, selling or stating the financial status of an organization. This way a cosmic relationship is established with other leading brands. | On the other hand, public notice Ads are generally published by government bodies and therefore are considered to be legal notifications. There are different types of notice Ads like Court Notices, Property deal notices, a public notice for loss of documents, any loss of essential certificates etc |
What are the Best Newspapers for Releasing a Tender Notice Ad?
Since Tender Notice Ads are published out of an obligatory requirement rather than a need, make sure to choose those newspapers which have a wide circulation and healthy readership, thereby fulfilling the purpose of releasing the Ad. In our opinion, consider publishing tender notice in Times of India, The Hindu, Hindustan Times and Economic Times. All these publications enjoy a healthy circulation and have amassed a loyal readership base, thereby making it an apt platform for releasing tender notice Ad in a newspaper.
Book Tender Notice Ads through Lookad!
If you are looking for a simpler method for booking tender advertisement in newspaper, we have Lookad ready for you.
We are an online newspaper advertising agency with a presence of over 30+ years in the media sphere. With our presence in the media sphere, we have created plenty of success stories for our clients with the help of our expert and skilled in-house individuals. This attribution has enabled us to gain the INS accreditation which adds to the trustworthiness of the brand name and permits us to maintain a long-standing relationship with a gamut of media houses. Furthermore, at Lookad we have done away with the policy of retaining a predefined card rate. It is because we have the capability to negotiate the Ad rates with the various media houses on behalf of our clients to provide them with the best newspaper Advertisement rates in the market.
For further information consider browsing through the Bookadsnow official website or drop us a mail @ info@lookadindia.com. Alternatively, call us @ 9830030877 and connect with our media experts who will help you to book tender notice ads instantly at a cost-effective rate.