Newspaper advertisements are not dead as had been predicted and we can see the truth of this quite well. As per IRS 2017 report, the percentage of newspaper readers have increased by 40% from 2014 to 2017. Moreover, to add to your knowledge, India consists of the largest print media market in the world with an addition of 110 million new readers since 2014. Local and regional newspapers in the publishing industry in India have profited the most from this boom. Hence, these numbers make it imperative for advertisers to publish newspaper advertisements as it will improve their brand's ROI.
Even though it is believed that digital advertising is garnering the attention of consumers, advertisers still have a strong faith in newspaper advertising. While most of the brands can release online Ads, there a few types of advertisements like the obituary Ad, tender notice Ads, public notice Ad, etc. which are designed for publication in newspapers exclusively. Hence, newspapers act as a well-rounded platform where one can publish different types of Ads to reach target audiences.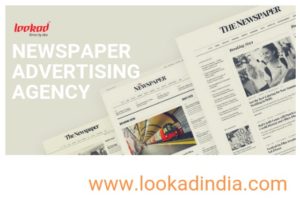 However, is hiring a Newspaper Advertising Agency a Smart Idea?
Now, we are acquainted with the fact that the popularity of newspaper Advertisement in India is not going to diminish anytime soon. Hence, the advertisers have not given up on newspaper Ads, even in this digitized world. This has given rise to a plethora of Ad agencies in India. But, is it smart to publish a newspaper Ad through an Ad agency?
If asked, we will say yes!
While the common notion is that hiring a newspaper advertising agency only complicates the whole process of booking newspaper Ads along with doubling up the cost. You have caught the wrong end of the stick if you believe this. If you are an advertiser, you need to get a few things straight about a newspaper advertising agency.
First, booking a newspaper advertisement via an Ad agency will not make the process complicated. In fact, nowadays the process has become a lot easier. You can book newspaper Ads online from your comfort zone via an Ad agency. For example, Bookadsnow, the online media planning, buying and releasing portal has given a whole new perspective to booking newspaper Ads. Through Bookadsnow, you can book newspaper Ads online within a few simple steps by filling up an online form. In this form, you have to specify the Ad requirements and submit the same, after which the Bookdasnow team will contact you in no time and learn more about your requirements.
Second, if you are thinking that hiring a newspaper advertising agency will only increase your expenses, you are wrong yet again. Newspaper ad agencies generally have the potential to negotiate the Ad rates with the publication houses they interact with, thereby providing discounts to the advertisers.
Third, expect the task of executing a newspaper advertising strategy to become flawless. Newspaper advertising agencies always have a skilled in-house team who will guide you through every step of your newspaper advertisement. In some cases, the agencies also have readymade templates for Ads like obituary Ad and tender notice Ad. As an advertiser, you'll get to pick a template of your choice, the best fit for your Ad content while the in-house team will take care of the rest of the Ad. This way, your task of providing the creative will be eliminated and you'll get an attractive newspaper Ad.
Lastly, the most newspaper advertising agency is not accredited by the INS which adds to the credibility of their company's name. Owing to their impeccable work, they earn the trust of the various media houses and maintain a healthy relationship with them, which in turn allows them to gain discounts for clients. Since the newspaper advertising agencies are well aware of the nitty-gritty of the advertising world, they will tap on the tricks that will give an advertiser with the best ROI in the market.
So, which is the Best Newspaper Advertising Agency?
In our opinion, it is Lookad India Pvt Ltd.
With its HQ in Kolkata along with a team of skilled individuals who strive to present their clients with tailor-made media buying and releasing services, Lookad India has been present in the industry for the past 30 years.
Founded by the Late B.C. Lunia, they started the journey with the idea to nurture healthy growth in every media domain through their strategic techniques. Lookad India Pvt Ltd focuses on collaborating with notable national brands along with medium and small-scale regional brands that want to make an impact in their respective geographies.
Furthermore, their tie-up with Dentsu Aegis Network (first global communication network in the digital age) has allowed them to create a better media architecture and planning under the supervision of Dentsu.
Over a period of 30 years, Lookad has tied up with brands like JK Tyre, Manyavar, Lux Innerwear, Linc Pens, Greenply, Bisk Farm, Haldiram etc.; whom they deal with individually and provide them with the perfect solutions to their branding strategies. They have a stable bond with media houses like The Times of India where they help clients to book newspaper advertisements as well. As a bonus, Lookad India has an online newspaper Ad booking system in the name of Bookadsnow. Hence, now you can book newspaper Ads online through Bookadsnow or visit the office of Lookad India Pvt Ltd to avail offline services.